First Year Baby Plan
Your baby will do so much growing and changing from day one to a year old. It's a magical year full of smiles and accomplishments. Our first year baby plan is a perfect opportunity to record these precious moments.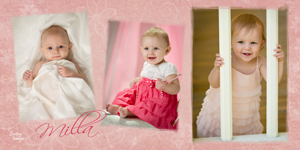 We have a variety of collections avialable from which you can choose. We understand that everybodies needs and budgets are different.
All of our sessions are private & custom designed. And when we say custom, we mean it! We have a variety of backgrounds and props to fit your baby's personality. We even welcome your own props and ideas. We are not a one-size-fits-all studio and you don't have to pay extra for our creativity. No waiting in line with other crying children. Pick the time of day that your baby is the happiest and let's create some memorable images!
Our full year collections start at $199 (reg. $466) which includes 3 sessions during your babies first year. You will recieve a "Gift Portrait" (8x10 or 5x7 - your choice) from each session. At the end of the year you'll receive a beautiful 10x20 collage with your favorite image from each session. ~ and if you did newborn portraits with us you can be include that in the collage as well.
Our "Star" collections include Albums or Books, a DVD slideshow of all the images from the entire year and much more.
Looking for a unique baby shower gift?
Signing up the new mom for this plan is a perfect idea!